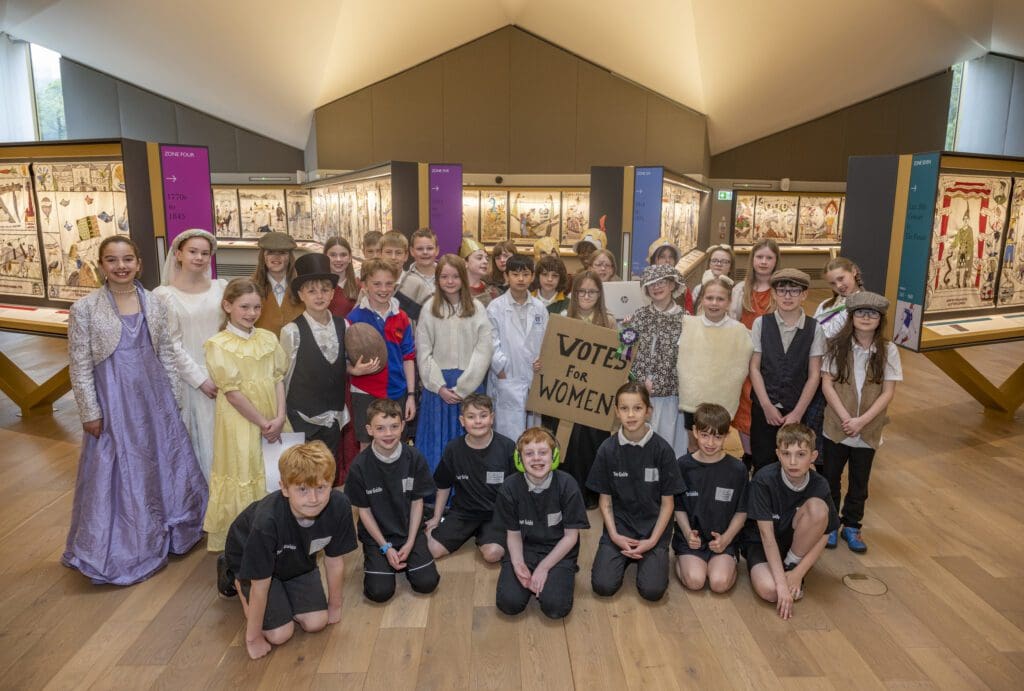 The Great Tapestry of Scotland's current Junior Tour Guides have recently carried out their final tours with a visit to Waverley Residential Home where they carried out some inter-generational learning by putting on a performance to the residents – one of whom as a former St Peters Pupil herself!
The residents loved seeing the Tapestry come to life in front of them, as the pupils taught them about the 6 panels they have been discovering in more detail – The Romans, Wallace and Bruce, Mary Queen of Scots, James Watt and the Steam Engine, a Victorian School, Votes for Woman, Rugby and Dolly the Sheep.
This visit was the final tour the pupils will perform – with them having already carried out 6 tours within the Tapestry Gallery and welcoming over 100 people onto their tours – including their families, local dignitaries, members of the public and other school pupils.
The P6 pupils have worked hard on this project and started by filling out application forms and attend interviews for their roles within the project. Over the last few months, the pupils have researched panels, written scripts, designed their costumes and performed their tours.
The legacy of this project will continue with this being an annual part of the curriculum for all P6 pupils of St Peters. The current P5s, who will be the Tour Guides next year, had a chance to come along to see a performance – and are already getting inspired about the stories they want to showcase next year!